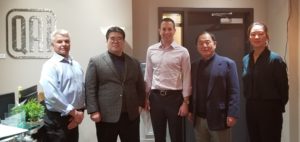 QAI is excited to announce the establishment of a certification and inspection office in South Korea operating as QAI-Asia Inc.
QAI-Asia is a co-operation between QAI (North America) and PNS (Korea) and brings together vast experience and technical knowledge in the field of safety and product certification.
With a deep understanding of the culture and business requirements in Asia and North America, QAI-Asia is designed to provide expert services to manufacturers and suppliers that wish to sell their products on both sides of the Pacific Ocean. The initial focus of the QAI-Asia will be in the electrical and inspection areas but it is hoped to rapidly expand our capabilities to include all of our service offerings.
PNS in a Korea company based in the Seoul area that for the last 10 years has been providing safety Engineering service including consulting on testing and design compliance. PNS works with Manufacturers to help them develop safe products through both technology Philosophy, Standards and Fact based Safety through education and Engineering.
QAI is recognized by the Occupational Safety and Health Administration (OSHA) in the USA as a Nationally Recognized Testing Laboratory (NRTL) and accredited by the Standards Council of Canada as a certification body for products entering the Canadian market. These accreditations, together with a superb reputation give you the confidence and peace of mind that your QAI certified products comply with the relevant safety standards and will be accepted in the North American market.
For additional questions or service inquiries please contact Daewoo Kim at dwkim@qai.org
Sincerely,
Daewoo Kim, CEO & Steven Harris, Director