Korea Testing Certification (KTC) and QAI Laboratories (QAI) have signed a Memorandum of Understanding (MoU) during a visit to QAI's facility located near Los Angeles, California on August 13, 2018. The aim of the agreement is to develop coordinated activities and share expertise while breaking international technical barriers to trade.   Both organizations will ensure good information flow and cooperation. Kent Adamson, President, QAI North America notes, "This agreement with KTC is a natural progression for two service oriented companies.  We believe this agreement will aid in providing more options to companies that require product approvals to do business between East Asia and North America."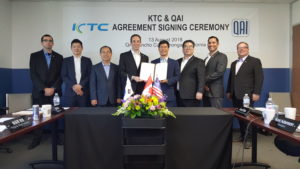 Background on KTC:
Korea Testing Certification(KTC) has been dedicated to enhancing safety and quality of electric and electronic products, having up-to-date technology accumulated so far along with the cutting-edge facilities equipped with high capability and properties, ever since its inception in 1970 as a National Official Professional Testing Research Institute.  The 21st century asks us to remember the saying "Future comes into a person´s possession who prepares for it". In line with market liberalization, KTC has been building close relations with overseas certification agencies.  It has also obtained accreditation as a Certification Body Testing Laboratory (CBTL) and National Certification Body(NCB) from IECEE in the field of LlTE, HOUS, TRON, OFF and EMC.
Background on QAI:
QAI Laboratories (QAI) is an independent testing, inspection and certification organization, founded in 1995, by a group of experienced certification and testing experts.  It services the industry, government and individuals with cost effective solutions through in-house capabilities and an established world-wide network of qualified affiliates. QAI is accredited by the International Accreditation Service (IAS), Standards Council of Canada (SCC) and obtained status as a Nationally Recognized Testing Laboratory (NRTL) with the US Occupational Safety and Health Administration (OSHA).  Testing, inspection and certification services include industries such as building products, electrical safety, electromagnetic compatibility (EMC), plumbing components, factory-built structures and gas appliances.  In 2018, QAI expanded internationally and opened its first office in Asia, located in Seoul, South Korea.